Waist training corsets myths and truths
April 04, 2015 14:05
Waist Training Corsets Myths and Truths
Waist training has been used for years all over the world as a viable method for shaping the body or/and losing weight, there have been many types of similarly used techniques in dieting over the recent years such as body wraps. Waist training is actually much more simple that many people would have you believe, I have heard people say that it can move your organs around and that it is dangerous (with absolutely no proof). Well like anything in the world it is about how you use it. Yes I'm sure that if you wore a waist training corset that was very strong and had little flexibility for
many
hours a day and night extremely tight then most likely you would cause damage to your body over years. If you ate carrots all day every day you would probably turn orange!.. Healthy things are healthy in moderation as part of diet and exercise. But that is not what waist training is about, waist training should be used to aid in creating a beautiful pear shaped body a flat a tones stomach and tightening the skin. Here are some facts about corsets that are not so known;
Wearing a corset engages the abdominal muscles causing a stronger core and more toned muscles,
Waist training corsets can be made using steel, spiralled steel or whale bone, It is important that these materials are used. Many corsets are made with plastic boning. This will do nothing apart from look 'pretty'.
The first evidence of a corset was in 2000BC!… Hardly a fad is it?
Why is a corset different to wearing SPANX or body wraps for waist training?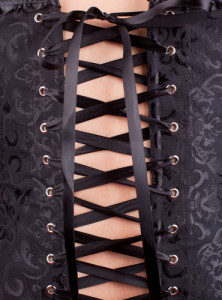 Don't get me wrong I love SPANX and often wear mine, however it is not for weight loss it is just for holding everything in and giving a smoother body shape. Body wraps work in a similar way to waist training and The Corset Diet however it is temporary, you can loose a good few inches however this is only for a day or so. Great for the christmas party or a special date but other than that a fairly expensive way of getting into a dress or looking good for a few hours. The corsets assist your body in changing its shape and as your muscles will be engaged, it is also toning your stomach and helping shift that stubborn fat from the mid section. Many people have started working out in corsets (including me) I love it, its a great way to really emphasise that shape, the slim waist and wider hips. Simply put the corset will give a permanent solution rather just a temporary one. There are many mixed views on waist training and the corset diet. A lot of this stems from people seeing victorian style TV shows or films where the woman is being (rather painfully looking) forced into a corset to the point of torture.. Let me be clear this is not how it is at all! Other opinions are that it is dangerous for the body but providing you get a corset that is made to be safe and used regularly (like the ones at
thecorsetdiet.com
) then there is nothing to worry about, they are essentially a stronger version of spandex slimming clothing just designed with shaping capability that cause weight loss. Thats why we have ours approved by doctors and dieticians.. and like any diet it works so much better as part of a healthy diet and exercise.